Hej. Hur mår du?
[hej hur mor du]
"Hi. How are you?" in Swedish
Join us.
I am more interested in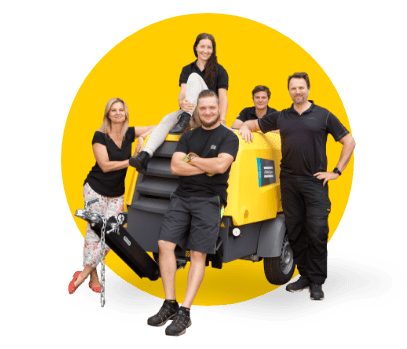 Who we are
A Swedish company producing the highest quality industrial tools and equipment.

Every third car in the world is assembled using our tools.

Our hi-tec oil-free compressors help to make beer or coffee.

We are the world leader in many fields, and at the same time, humble and responsible.

Forbes ranks us among the top 100 most innovative companies in the world.

We are a global company, but on the other hand decentralized.

We have three branches in Prague (Pankrác, Chodov, Hostivař).

Our colleagues from Atlas Copco Services work in Brno.
Sweden in the Czech Republic: Experience what it is like...
To be proud of product quality
"When I come to a client and say I am from Atlas Copco, I can see it means something."
(Taken from our internal survey)
To have time for yourself and family
"If you want freedom in what you do and want to stay flexible in your personal life, join us."
(Taken from our internal survey)
To be a responsible world leader
"Being a market leader means responsibility - towards our people, the community and the environment."
(Taken from our internal survey)
To have great people around you who value you
"If you're looking for a job where people treat you well and don't milk you dry, you're in the right place."
(Taken from our internal survey)
What will life at Atlas Copco be like?
Do you know what we like best? Great people around us, where a person feels good and is valued. A feeling of freedom, trust, but also responsibility. The opportunity to fine-tune our work so that we can spend our free time with a clear head. And also to help people who need it.
Check out our Facebook page

What about the benefits?
Flexible working hours or fine-tune your day

Possibility of home-office

Part-time work

Support of sports activities

Annual bonus

Additional week of holiday

Talent & Leadership Programmes

Free language courses

Fruit every day

and more
We help together
Thanks to our employees and their Water4All project, we have provided access to drinking water for more than 2 million people worldwide. As volunteers we help, for example, the Children's Home in Mladá Boleslav or the Bohnice Sanatorium. We are committed to an ethical approach with regard to the environment. Also because of that, we were the first large company to become a member of the Slušná firma (Fair Company) project.